The Fast Track Mixing Course
Do any of these describe you? You want your home recorded music to sound professional like your favorite artists but…
… you think you need better gear.
… you think you need a Berklee College of Music degree.
… you think you need expensive or simply "premium" plugins.
… you think you need an internship in a professional studio.
… you're just not getting the results you want and don't know why.
The truth is that nowadays literally ANYONE can make professional sounding mixes with nothing but a basic digital audio workstation (DAW) because all DAWs offer the same basic stock plugins which come with them that professional mixing engineers are using every day.
Sure, it would be great to have a free lifetime subscription to every plugin Waves puts out, but you can use the stock compressors, EQs, etc. which come with your DAW to get virtually the same results…
(IF you know how to use them).
That's where I come in. I'm Tony (known as "The Music Guy" around these parts) and I've been a mixing and mastering engineer for bands around the world for a decade now. I began working with Ableton Live 5 (my first DAW) in 2007 to record my own music when I was fresh out of college and honestly didn't know what a compressor was, let alone what it did or how to use it.
But I quickly began tinkering with the stock plugins which came with the DAW and saw how they affected, and more importantly, IMPROVED the quality of my mixes.
Unfortunately I didn't have anyone to learn from firsthand, so it took a lot of trial and error (not to mention time) to learn how to use these ubiquitous and classic audio production tools to their full potential.
I got to the point where friends would ask me to mix their music for them, and shortly thereafter I started the Music Guy brand online and now mix and master for artists all over the world through Music Guy Mixing and Music Guy Mastering, respectively.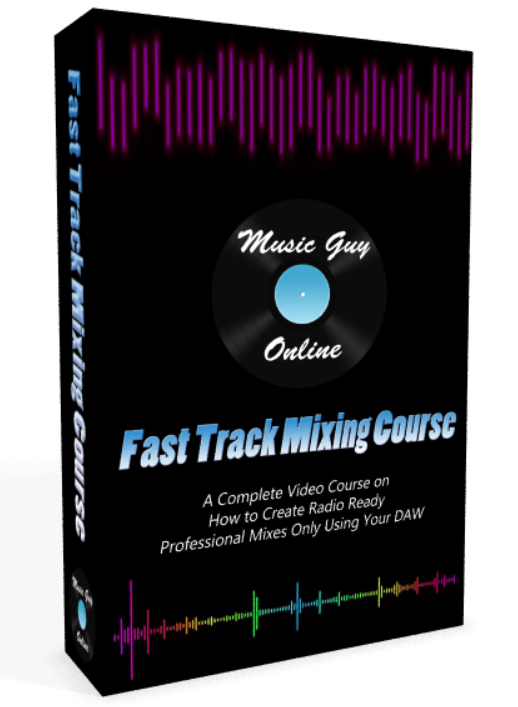 Now over a decade later, I'm sharing all of that on-the-job experience with anyone who is in the same boat as I was a decade ago.
I give you the Fast Track Mixing Course from Music Guy Online.
In this 21 part video series, you will watch me literally mix an entire 20 song album top to bottom, front to back, through and through.
That's more than 18 HOURS of video tutorials.
But as the name suggests, this is the FAST TRACK Mixing Course. The meaning behind the name is twofold:
1 – To teach you how to become a better mixing engineer and create radio ready mixes using only your DAW and its stock plugins as efficiently as possible; I've cut out the fat so you'll only learn the practical things you need to know and not the things you don't. I even show you the plugin settings I use so you can copy them into your own DAW so you can get the same results.
2 – As the course progresses and we get into the later songs on the album, we begin to speed up in applying the things we've covered and learned to get to the end best result more quickly and efficiently.
What the Fast Track Mixing Course Covers
Here's a bit of what I cover in the Fast Track Mixing Course from Music Guy Online:
My own personal tips, tricks, and shortcuts which you won't learn anywhere else.
How to create a mixing template which you can use to import future mixes and save yourself lots of time by applying the settings you already know work well as a starting point for all of the instruments in your mixes. You can even work off of this template when recording new music.
How to use basic plugins on a track and mix level, including compression, EQ, stereo width, gain utility, reverb, saturation, and more.
What the different plugins do, demonstrating the different effects you can achieve by applying them in different ways to different types of audio/different instruments.
How to best process different instruments including vocals, drums, guitars (acoustic and electric), bass, keyboards/piano, and more.
How to gain stage using different methods to both keep your tracks or mix from getting too hot as well as the track gain-to-plugin link to get the most out of your plugins.
How you can set levels and panning to ensure that everything has a clear place in the mix.
How to take a flat mix and make a bigger, more open, and three-dimensional sounding mix.
How to achieve cleaner sounding mixes, whether through cleaning up a muddy lackluster mix or even controlling an abrasive mix.
How to create a dynamic mix which will keep your listener engaged using plugins and techniques like stereo width and volume automation.
How to better emphasize or even create a chorus simply using the mix as a compositional tool.
How you can take lackluster recordings and unlock their full potential to make them sound like they were recorded in a professional studio.
My own presets for each plugin on different instruments – you only have to copy my settings in your own DAW to get the same results.
Many, many, MANY more things. Each video/song in this series provides different challenges, so you'll learn something different each time.
You can access the complete 21 part Fast Track Mixing Course video tutorial right now for a one time fee of just $29.95.
I believe in this mixing course and its ability to help you create professional sounding, radio ready mixes, better than you ever thought possible. In fact, I believe in it so much that I'm guaranteeing your complete satisfaction or your money back within 30 days. That's right, a full money back guarantee, no questions asked, if you're not completely satisfied with The Fast Track Mixing Course.
Let me be clear. This course is for you if you:
Are ready to seriously improve the quality of your mixes using practical, no nonsense tutorials.
Are a visual learner who likes to learn things through firsthand demonstrations.
Want to use your DAW to its full potential.
Want to make radio ready, professional mixes without breaking the bank.
This course is NOT for you if you:
Are Chris Lord-Alge… or probably Tom, as well.
These are the same tips and tricks which I employ daily to make artists in every genre's music sound professional even if it was recorded in less than ideal environments. The album I'm mixing in this tutorial is a perfect example of how I take a lackluster sounding collection of tracks, pick them up and polish them off to make something which sounds completely different.
At the end of every video, I compare the original rough mix of the song to our completed mix so that you can hear the A/B difference firsthand.
50% Introductory Discount
Other tutorials which don't cover anywhere near the amount of information, tips, and tricks, as The Fast Track Mixing Course cost nearly $100 or more!
As this is a brand new course, I'm selling it for a special short-term introductory price of half off the normal price at just $29.95. This price will not last forever, so grab it now while it's still on sale.
And let me remind you one last time that I believe in The Fact Track Mixing Course's ability to enable you to create better sounding, professional mixes -mixes which will blow you away at their quality – that I'm guaranteeing your satisfaction with a 30 day-full money back guarantee, no questions asked. Simply write me at tony@musicguyonline.com and say you weren't happy with the course and I'll gladly and swiftly refund you the full purchase price.
Purchase The Fast Track Mixing Course from Music Guy Online Now