Having a professional website is essential for any serious artist. While you can and should set up profiles at Facebook and other websites, there is no substitute for having your own website.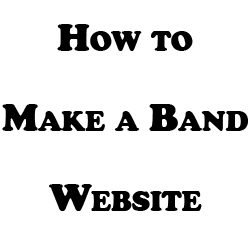 Luckily these days it couldn't be simpler to make a band website, so in this article we'll cover how to make a band website.
I recommend using free software called WordPress to run your website. If you're unfamiliar with it, WordPress is a free blogging software which makes interacting with your website as simple as possible so that you can add new posts/content and customize the look and layout of it with great intuition.
WordPress also has thousands of free plugins which give your site increased functionality with a couple of clicks. You can easily create a contact form, a system to automatically update your website when you get new live show announcements, create a "slider" bar to feature a variety of information right on your home page, and much more using plugins.
Virtually any effect or interaction you hope to achieve through your website is available via WordPress, and it really is simple to use to both design the look and feel and update your website with new news posts and information.
In just a minute I'll share a couple videos to show you how to make a band website simply using WordPress in about 10 minutes.
How to Make a Band Website
Before we get ahead of ourselves, we need to register a new domain and get hosting for your site. The domain is the URL at which your site is located. Domain registration costs an up front fee of typically around $10, depending on who you go with, and it is an annual charge.
Hosting is required to actually keep your site "hosted" online so that people can access it. Hosting is very inexpensive, depending on who you go with.
I use GoDaddy for both domain registration and hosting because they offer some of the most competitive rates on both and I've never had a problem with them in 6 years of owning and hosting websites. In fact, I use them so often that they hooked me up with a discount link for both registration and hosting, so I can share them with you.
First is the domain registration. You can get any new .COM URL at a discounted rate of $7.49 a year (as compared to the regular $11) when you lock down your domain name for at least a period of 2 years and use my discount link. Your best bet is to register your own band/artist name as the URL of the site as you want your site to be easily identifiable with you.
If your name is common and you find that it's already been taken as a URL when you try registering it, just add an extra word like "music" to get a unique URL of your own and to reinforce to people that they're at the correct music related site of yours.
Next you need hosting. You can keep multiple websites on the same hosting account at no extra cost, but even to get one website online you need hosting for it. Fortunately you can get it for as low as $1.99 a month with my discount link. You won't find a better deal than that online or get the same level of quality.
I've put together a complete video guide on how to set up a website for free step by step (minus the cost of registration and hosting) which you can check out here:
That video covers everything from domain registration to hosting to installing WordPress, as well. Once you've got your site setup and have WordPress installed, check out my video guide on how to use WordPress:
The WordPress "theme" is largely what effects the look and feel of your website.
While you can check out lots of free themes within WordPress as detailed in the WordPress video, check out ThemeForest for premium themes which look insanely professional, attractive, and functional, but for super cheap at that. I'm talking between $10-$35 for 99% of the themes you'll find on there.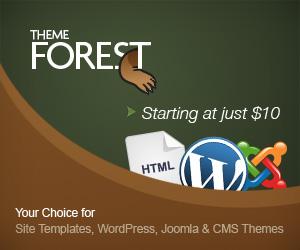 These themes come 100% ready to go, you just purchase the theme you want's Zip file then upload it via your WordPress dashboard and just like that it's ready to go.
From the ThemeForest website, you can search by keywords to find themes related to your keywords of choice, or you can just click on "WordPress" to exclusively find WordPress themes to use for your site.
From there, you can sort them by popularity or a number of other factors and you can experience a live demo of each by clicking "Live Preview" for the theme which you want to check out and it will take you into that theme so you can see what your site will look like and how you can navigate your site if you used that theme.
After you've gotten the theme you want, you just have to click on the "Appearance" tab on your WordPress dashboard and it will take you to the theme page. There's an "add new" button at the top of the page where you can find the compressed theme folder you just downloaded. Select the zip folder and this will upload it to your hosting account automatically.
Once it's been uploaded you should see it on the theme page alongside any other existing themes. There you just have to click "activate" and this is now your active theme. Visit your website to see the new look.
You can now click the "customize" button at the top of your dashboard when viewing your site. This will let you change the basic look and feel of your site and how it's oriented.
You can then begin creating "pages" and "posts" for the content of your site via the dashboard.
"Pages" are for more evergreen navigational links on your site. This would be for things like "Live Dates/Tour", "Merch", "Music", "News", "Contact/Booking", etc.
"Posts" can be thought of more as articles or blog posts. You can use this for news updates to notify your visitors when you have new music, merch, tour dates; updates such as these. You can then link to the corresponding pages using WordPress' simple word-processing like interface.
Now that you know how to make a band website, make sure you link to it frequently from your various social media and video accounts because again, it's the one constant space which you will always have control over.