Here's our indie pop playlist for April 2022, featuring the best in independent pop and alt music:
As always, here are a few songs I'd like to circle in this indie pop playlist for April 2022 to enjoy the changing of the season:
Julie (Come Out of the Rain) (Josh Rouse) – Speaking of April showers, this is a great low-key track from singer-songwriter Josh Rouse to kick off this indie pop playlist for April 2022.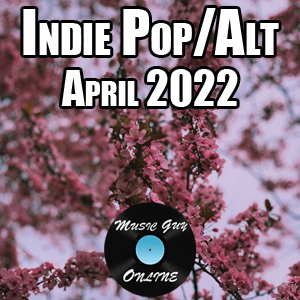 Saltwater (Geowulf) – There's a really pleasing lightness and air to Geowulf's "Saltwater". A very chill track perfect for ushering in the warmer months.
When We Were Young (The Wild Wild) – The Wild Wild's "When We Were Young" is the perfect blend of uptempo synth pop with a great hook on that chorus.
The Propagandist (-ness) – I love the evolving sounds and production on -ness' "The Propagandist", and the conversational feeling verses feel unique and satisfyingly genuine. There's a very specific 80's vibe on this, which has a flavor of Paul Simon's Graceland to me. Really interesting track all around.
Pressure to Party (Julia Jacklin) – I first heard Julia Jacklin after her collaborations with another very talented singer-songwriter in Christian Lee Hutson. The lyrics are pretty straightforward, but it's one of many solid tracks from her.
Faint of Heart (The Strike) – I love this song. Full stop. One of those tracks which always puts a smile on my face and just makes me want to dance. The vocals are far and away the star here, perfectly matched for the song, and those vocal melodies soar. Easily a standout on this indie pop playlist.
Anyways (Varsity Week) – Another track built around what I think is an interesting voice. Modulation and layering is used well to deliver a thick, ear catching melody under a slapping beat.
Southern Comforting (Hotel Mira) – That "I don't regret it if you don't regret it" at the end of that 6 5 4 minor progression down the scale is a great earworm to build a track around as Hotel Mira do here, including that ending where it's like the culmination of a fireworks display..
California Nights (Brett) – "California Nights" from Brett is a meandering trip of an electro pop track in the best way possible. Great track to throw on in the car and slowly nod your head along.
Every Chance I Get (Reptar) – Feels like a refreshing modern take on Tom Petty mixed with a bit of The Replacements and The Police. Plus, who doesn't love a Rugrats reference?
Man on the Moon (Zella Day) – Another head nodder with a delightful vocal-based wall of sound on that chorus as the main vocal cuts through just right.