Here's our indie rock playlist for March 2022, featuring the best in independent rock and punk music:
Here are a few songs in particular for mending that broken heart in this indie rock playlist for March 2022.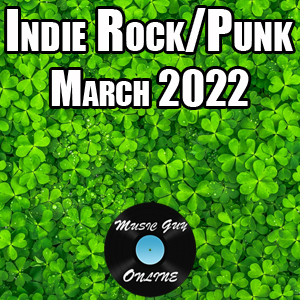 Anatomy of a Crush (Caving) – We kick off this indie rock playlist for March 2022 with the throwback emo vibes on Caving's "Anatomy of a Crush". At just over 2 minutes, it's a nice build with some serious early 00's Dashboard Confessional feels. Each of the three sections evolves nicely and larger from the one which came before, and it's all over too soon.
Craigslist Personals (WRENN) – The crisp vocals are the start on the dreary 90's influenced WRENN's "Craigslist Personals". Specifically they cite the Cranberries as a major influence, and you can hear it all over this track.
Or so I Thought (7 Birches) – 7 Birches catch your attention with the repurposed "Can't Help Falling In Love" opening vocal hook on their "Or so I Thought". It works well and sets up the midwest emo track well.
Rewind (Jet Black Alley Cat) – Jet Black Alley Cat's doesn't break the mold on its 80's twinged indie pop rocker "Rewind", but it's a slower midtempo number which drives well and holds the listener's ear throughout effectively on the strength of strong vocals and reliable hooks.
Ultrasound (Empty Country) – You can hear the remnants of Cymbals Eat Guitars on their singer Joseph D'Agostino's new project, Empty Country. This is especially true on arguably the most CeG's track on the record, "Ultrasound" with its dystopian shout along chorus. Just the right amount of controlled chaos on this one.
Raptured Trax, Part 2 (Equipment) – This is just a fun track, with lyrics about spending money promoting your band in place of your rent and plenty of nods, including a not so subtle reference to "Smoke on the Water".
These Lights (The Forecast) – This is a dirty and lo-fi punk rock track from The Forecast. What really makes it is the contrast between the low-key and calmer verses from the male singer and the brashness of the female vocals on the chorus. Things kick up nicely on the back half to make an engaging rock anthem throughout.
Staring Contest (James Ivy) – James Ivy's "Staring Contest" has late 90's pop alt rock influences all over it, from that acoustic guitar, whistling synth, and a layer of fuzz on those choruses. It would slot in on the "Can't Hardly Wait" soundtrack without missing a beat.
Are You Still Seeing Graig, the Orthodontist? (Cliffdiver) – Another track which is just a mess o' fun particularly lyrically and with the occasional sax fills and a skaful bridge; how can you not enjoy Cliffdiver's "Are You Still Seeing Graig, the Orthodontist?"?