Here's our indie pop playlist for March 2022, featuring the best in independent pop and alt music:
As always, here are a few songs I'd like to circle in this indie pop playlist for March 2022 to enjoy the changing of the season:
Take it or Leave It (Great Good Fine Okay) – Glossy uptempo synth pop with a hook which will get stuck in your head all day (at least it did for me), Great Good Fine Okay's "Take It or Leave It" is a track I keep coming back to so I thought it would be a great way to start of this indie pop playlist for March 2022.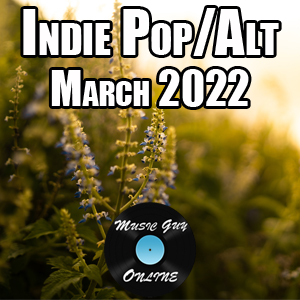 Dangerous Dreams (LeBrock) – I'm not going to lie, synth wave is something of a guilty pleasure for me. Emphasis on guilty when they really layer on the 80's cheese like in LeBrock's "Dangerous Dreams", but when the hooks are this good and the production is this tight, it's hard to argue with what they're doing on this track.
Kill the Noise (Me Not You) – With all of the disaffected angst of some late 90's alt rock coming at your in waves, Me Not You's "Kill the Noise" is a very satisfying slow burn.
Wild (Catherine McGrath) – Catherine McGrath's modern country tinted "Wild" is a bit outside of what we normally work into these indie pop playlists, but it's a great hook nonetheless with shades of Taylor before she doubled down on pop on 1989.
Comfy Cozy Song (Formerly Bodies) – Formerly Bodies' intimate, beautiful, and aptly titled "Comfy Cozy Song" has some Jewel vibes on it, mostly from a very similar hook to "You Were Meant for Me".
No Saint (Lauren Jenkins) – Another intimate alt pop number with shades of country, Lauren Jenkins' "No Saint" does a lot of things well. I particularly love how it subverts your expectations by abruptly ending that chorus on the minor chord, and it's satisfying build midway through.
Girls (girl in red) – The young Norwegian pop star has thrown listeners a lot of looks since coming up. One of her earlier tracks in "Girls" is a 3 minute slice of lofi-alt pop bliss.
Lying to You (Goldroom) – Solid alt/synth/pop midtempo number from Goldroom in "Lying to You". It's all about that chorus, culminating with the soaring delivery of the titular lyric. I'm more use to Goldroom's tracks with guest vocalists, but his vocals are on point in this track.
big fat mouth (Arlie) – Arlie's "Big Fat Mouth" begins with a catchy synth hook on which you can hear the influences of the laid back indie pop hits of the late 00's like Peter Bjorn and John's "Young Folks" or something from MGMT. This is another artist who can throw a lot of looks at you (shout out to their "too long" which is my personal favorite), and this is one of their most popular for a reason.