Australian by way of cities from around the world rockers Gang of Youths are back after four and a half years since their exquisite "Go Farther in Lightness" was released. It made for one of my favorite records of the last decade (incidentally check out my Go Farther in Lightness review), so I've been eagerly awaiting its followup ever since to say the least. This is especially true after they showed some very promising signs with the a few of the early released singles such as "the man himself".
Their return comes in the form of the 13 track "angel in realtime.". How does it stack up to its stacked predecessor? Here is my angel in realtime. review (yes the lack of capitalization is intentional/the actual formatting of the title).
angel in realtime. Review
"angel…" begins with a "Viva la Vida or Death and All His Friends" era Coldplay-like gradual minute plus long build, full of chants, strings, and electronic sounds which lushly spread until they crescendo and disappear to give spotlight to vocalist, lyricist, and principle songwriter David Le'aupepe's voice: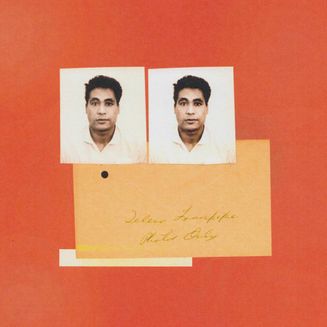 "I prayed the day you passed, but the heavens didn't listen"
This line is a reference to the loss of his father to cancer in 2018. It's fitting that this is the first line on the record as it's the main overarching theme which runs throughout. Those familiar with "Go Farther in Lightness" will recognize confronting death as a familiar theme for David Le'aupepe. That album successfully found hope in the shadow of life's most crushing tragedies, many of which Le'aupepe has experienced firsthand for those familiar with his story.
Getting back to "angel…" After his father's death, Le'aupepe learned that his father was not only ten years older than the singer thought when he passed, but he was born and spent his first twenty odd years in Samoa. He even left behind two half brothers Le'aupepe had no knowledge of and has since tracked down and made ties with.
As Le'aupepe is the guiding force behind Gang of Youths, it's not surprising that all of this personal change has affected the sound of Gang of Youths.
It should also be noted here that their founding guitarist Joji Malani, left the band late in 2019 on good terms. To fill the void, they brought in multi-instrumentalist and Noah and the Whale alum Tom Hobden to be the band's fifth full-time member, completely opening up the band's options sonically on a practical level in the process.
This is all heard on that opening track, "you in everything". It's still epic and sweeping with its strings and marching band snare rolls, but not in the same way that "Fear and Trembling" opened up "Go Farther…". This is a more inward looking Gang of Youths, relying less on huge, rock-infused emotional swells and more on well managed dynamics to deliver the effect.
There are still familiar feels on this opening track; the chorus delivery feels like a riff on Go Farther's "Heart is a Muscle", and some of the verses have melodies reminiscent of "Fear and Trembling". Whether these are intentional or not, it makes for a nice bridge.
There's nothing to dissect lyrically on "you in everything", Le'aupepe is simply wearing his heart on his sleeve, making this track a perfect love letter to his father.
There's a lightness (again, no pun intended) on many of tracks off of "angel…".
"in the wake of your leave" floats on air while having a drive and purpose I associate with Gang of Youths, making a nice bridge. If you asked me what Gang of Youths would sound like if they replaced Malani with Hobden, this is the song I would present to you. Easy answer, I know, but it's a great track. I'd like to hear this and most of this record live to hear how they approach it without access to the full studio of instruments.
"the angel of 8th ave." (see my angel of 8th ave. review) is one of the more energetic, guitar heavy tracks on the record, so it's not surprising that this was the first single released last summer as it does feel like it could have slotted into the last record nicely.
"returner" sees Le'aupepe reflecting on a time shortly after his father died when he tried to fill the void with an overcrowded schedule of shows with the band which left him sick, sad, and worse for wear. It's not a track I'll be returning to as much as others on here, but it's interesting to see the band do something more lighthearted and take some chances they hadn't before.
After "the angel of 8th ave.", "unison" was the second single released. It was a huge departure from the band; a lush exploration featuring saxophones, strings, tribal chanting recorded in Le'aupepe's ancestral homeland of Samoa. It came as part of a three song EP, so check out my total serene review for my full thoughts on it.
"tend the garden" is one of the most interesting tracks on the record, seeing the band mostly successfully tackle a completely new sound.
Not only does it see Le'aupepe writing through the perspective of his father and detailing his experiences, but the track channels some urban soul between its 70's drum beat from Donnie Borzestowski and the brass, and wide soaring strings all over it.
Add Le'aupepe's best Marvin Gaye impression, and you've got a truly unique track. It's probably the least Gang of Youth feeling of all of the tracks on the record, and I'm interested to hear how and where it slots in their live setlist, but it's an interesting and again mostly successful take on a sound which I would never have put in their wheelhouse.
"spirit boy" is another interesting one as the band again is showing its creative muscles being flexed. The verses are minimal, feeling like somewhere between Sinatra-esque crooning and The Verve's "The Drugs Don't Work". That late 90's and early 2000's Britpop vibe explodes in a ready-for-arenas chorus as Le'aupepe's voice floats above the music, going in and out of head voice like an early era Coldplay Chris Martin.
"brothers" is a nod to the previously mentioned half brothers that Le'aupepe didn't know he had until his father's death. It's one of the most stripped down and intimate numbers on the record, working on just Le'aupepe's voice and a piano playing a simple and similar melody. Lyrically it reminds me of the opening track in that there's literally no dressing up the meaning, the message is straight and clear.
Admittedly I typically hate it when the narrator just hands you the message of a lyric. One it feels like they don't appreciate to challenge you to interpret the meaning behind the lyrics, and secondly it strips you the opportunity of assigning your own personal meaning to the words.
And admittedly I began this song with that same mindset. Once Le'aupepe gets to the fourth verse:
Our brother Matthew is a baker, and
He stands a mighty seven feet
He was brought up in a Māori family
And speaks Te Reo fluently
He didn't know about our father 'til I
I guess he was about eighteen
And he did some time for something awesome
And he's the sweetest guy you'll ever meet
He came to meet me at a festival
And he told me everything he knew
That our father left him at the hospital
But if he forgives him, then I should too
… my cynical heart welled up and I was on board. Like with the opener, the genuine feeling behind the lyrics is so palpable, it's difficult to fault.
"angel in realtime." as an record is less a random collection of written songs and more of an album meant to be digested as a whole. I felt this as I was ready to get back to that previously referenced lightness and overarching musical vibe of the record on "forbearance".
The song revisits the subject of their first big single/song that got me into Gang of Youths, "Magnolia". "forbearance" looks at the events with almost a decade of perspective.
As I mentioned in my "the man himself" review, this is arguably my favorite track on the record and was shipped months before the album's release. The only way I can put it is that it hits the groove of this new look of Gang of Youths as well as any other track on the record.
The penultimate "hand of god" goes back to the intimacy of piano and Le'aupepe's vocals, albeit in a more deliberate and stylized composition than on "brothers".
It flows so seamlessly into the final song, "goal of the century", that they are essentially just two pieces of a greater composition. Not to mention both titles share a nice bond through their references to Maradona and two of the most famous goals ever scored.
"Say Yes to Life" closed out "Go Farther in Lightness" on arguably its highest note, so the bar for Gang of Youths closers is incredibly high.
That one-two punch of "hand of god" into "goal of the century" takes a breath at the start of "goal…" with an instrumental to gather itself before building up to the meat of what is arguably my second favorite track off of the record, two and a half minutes in.
Once again, every preceding track serves to set up the catharsis that is "goal…".
It's a beautiful payoff which sees Le'aupepe's acknowledge the good in his life:
There's angels in silence
It's warm in the islands
And Indy is growing
My brothers are calling
The Rabbits are chasing
Ricciardo is racing
And I'm making a living
And God is forgiving
And it's six in the morning
And England is storming
My wife is asleep and
We're thinking of children
I wish you could meet them
It's the final couplet which ties everything together, with as good a delivery of an album's titular lyric as I can remember, with one final reference to his father:
In a way, it'll feel like
You were an angel in real time
Incidentally this will make for an incredible combo with "Say Yes to Live" to close out their live shows. I can picture "hand of god" building into "goal of the century" to lift the crowd, then piggybacking into "Say Yes…" either after a prolonged instrumental or as an encore.
angel in realtime. Review Score: 4/5
At the end of my time with "angel in realtime.", my initial feeling was that this is a softer, more introspective Gang of Youths. It's one which doesn't hit as hard as or with the immediacy of "Go Farther in Lightness", but with that being one of my favorite records period, that's not much of a slight.
For as contemplative and personal as "Go Farther…" was, it carried a more defiant and electric energy throughout most of it.
Despite the added weight of this fresh grief, Le'aupepe is seemingly in a better place now. Older and wiser, his perspective has changed considerably over the last almost half a decade. You can hear the change all over this record in that extra air and ease in Le'aupepe's voice.
To be sure, Le'aupepe and co. have beefed up their discography and collection of songs nicely with "angel…".
And while it's probably unrealistic to think I could have had the same reaction to it as I did with "Go Farther in Lightness", I recognize that this is a very strong record virtually from top to bottom and gratifying proof that Gang of Youths are here to stay and "Go Farther…" was no flash in the pan in terms of quality.
Not to mention with such an evolution between those two records, I look forward to hearing what might be next for them.