Here's our indie rock playlist for February 2022, featuring the best in independent rock and punk music:
Here are a few songs in particular for mending that broken heart in this indie rock playlist for February 2022.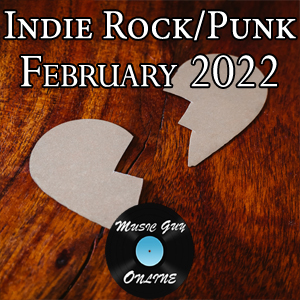 5 Ways to Bleach Your Hair (No Rome) – I was introduced to No Rome by the way of The 1975. With thick vocal stylings reminiscent of American Pleasure Club where it almost sounds like he has a cold singing through a noticeable amount of saturation on top of a reassuring beat, this is a great short track to kick off the February indie rock playlist.
To Shreds, You Say? (Iron Chic) – Iron Chic crafts a really nice brand of shout along rock on the back of powerful and tight rock production with a lot of energy, and "To Shreds, You Say" is a great example of this.
Sultans of Ping (Delta Sleep) – We catch our breath with this slow building track from the punnily named Sultans of Ping. The first 3 and a half minutes are a constant build to a satisfying instrumental breakdown
Give Me Back My Girl (Fiction Family) – I like how Fiction Family's "Give Me Back My Girl" subverts my expectations for where it's going to go. Those sparse and seemingly intentionally restrained verses which are all about a simple vocal feels like they're building to a huge chorus. Instead, you get a more natural growth into that chorus and a very nice drop-off delivery of the titular lyric. The building is subtle in this one, and by the end you're fully rocking out those same parts while never getting quite as big as you expect. It's a well crafted rocker.
Quitting (Can't Swim) – Another track where I just love the dreamy laid back vibes contrasting with just the right amount of gruff filled emo revival vocals. They take the foot off the gas at the midpoint for an effective eased break like The Early November's "The Mountain Range in my Living Room".
Be Here Now (Basement) – I have to give props to Basement for dialing up the perfect delivery specifically on the famous titular "Be Here Now". It's just the perfect amount of desire which is felt throughout the entirety of the song.
Time Moves (Oldsoul) – Oldsouls forges a nice fusion of what feels like early Paramore with 90's alt rockers like Sheryl Crow or Liz Phair on "Time Moves".
How I Get Myself Killed (Indigo De Souza) – "How I Get Myself Killed" tickles your curiosity with that title and draws you in with the lazy and loose delivery of that title and instrumental throughout it until your head is bopping along every beat of the way. Easily one of my favorites from this playlist.
St. (Restorations) – This playlist is rife with songs which keep you engaged, and Short Fictions accomplish this onThe vocals on Restorations' "St." are larger than life and are what stand out to me upon revisiting this track.
I Really Like You (Little Junior) – Admittedly that chorus on "I Really Like You" with the titular lyric is a bit gimmicky, but it sticks with you and you can imagine it being a ton of fun performed live.
Suck Up (talker) – Another track where it's the unique vocals which make the song. In this case, the vocals are simply perfectly suited for this style of alt rock with a touch of synths.