Here's our indie pop playlist for February 2022, featuring the best in independent pop and alt music:
As always, here are a few songs I'd like to circle in this indie pop playlist for February 2022 to fall in or out of love to:
Cracks and Creases (Serengeti) – Serengeti keep a satisfying lo-fi groove on a low simmer throughout their Cracks and Creases, featuring a nice minor flat walk down prechorus. Laid back mid-tempo unassuming hip-hop influenced lo-fi alt pop at its best.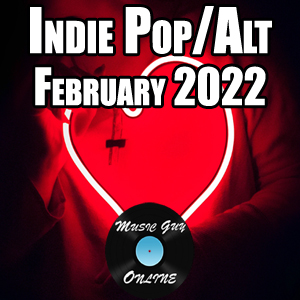 Miss It Still (Plastic Picnic) – Not the first time I've called out Plastic Picnic for their excellent pop-coated shoegaze, Miss It Still is some of their best work on the strength of a dreamy but steady instrumental and mellow howled vocals.
Candyfloss (James Wyatt Crosby) – The easygoing alt folk pop sound of James Wyatt Crosby's Candyfloss has some chill Family of the Year vibes which are perfect to put on for a carefree road trip with the folks closest to you.
Lines and Lines and Lines End (Psymon Spine) – Tightly produced controlled alt pop chaos is the best way to define the Lines and Lines and Lines End from Psymon Spine. Definitely a song which isn't afraid to stretch out a bit.
I Still Wanna Know (RAC, Rivers Cuomo) – After writing hundreds if not thousands of songs, Rivers Cuomo still wants to know (pun intended) and is obsessed with writing the perfect pop song. He wrote some excellent vocal hooks to put overtop of RAC's instrumental on I Still Wanna Know. This is one of those ear worm songs that I've been known to leave on repeat over and over for good reason; it's a decidedly easy listen.
Coloring Outside the Lines (MisterWives) – MisterWives create a sizable chorus with the production dynamics on comparatively building and restrained verses and a huge but simple vocal hook and post chorus hook akin to something from Cyndi Lauper back in the day with a modern flair. Excellent vocal-centric alt pop to be sure.