Holy hell, after 4 (long) years Gang of Youths are back. If you saw my Go Farther in Lightness review, you'll know that that album in particular established the Sydney, Australia by way of London, England rock five piece as one of my favorite artists today. It's not often that an artist creates one of my favorite albums of all time, but when it happens I eagerly (if not impatiently) wait and watch for their next move. That move takes the form of their latest single and first since "…Lightness", "the angel of 8th ave.". Yes, not using a single capital letter in that title kind of kills me, and YES, here is my the angel of 8th ave. review.
the angel of 8th ave. Review
The angel of 8th ave. starts out with a The National like intro with some ebows and other nice layering of strings. This is a good time to mention this is the first release featuring new member Tom Hobden – multiple instrumentalist and former member of Noah and the Whale.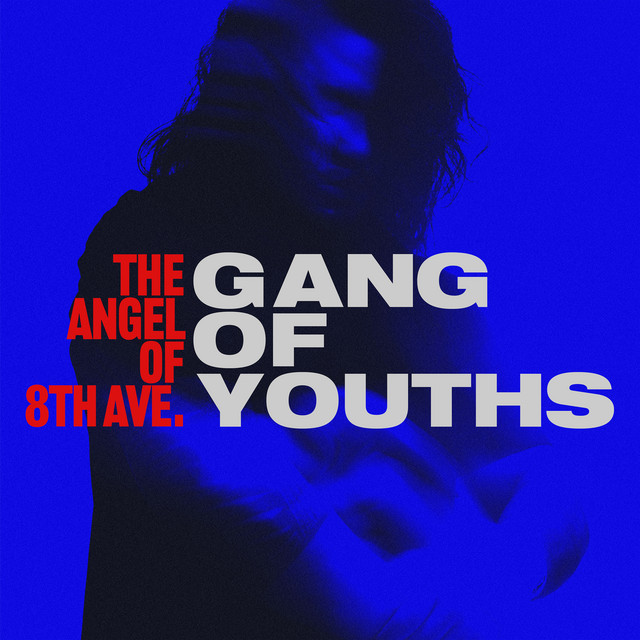 After a few measures of this, the drums crack in with some layered claps and we're off. The controlled beat breathes instant energy into the track, and it feels vintage Boxer/High Violet era of The National (Bloodbuzz Ohio, anyone?). It's certainly there in the production, and it sounds great.
The intro plateaus as some crunchy bass comes in to give us our bearings and a bit of crisp staccato acoustic guitar strumming makes for some nice rhythmic ear candy on the right.
It's hard to not make some comparisons with "What Can I Do if the Fire Goes Out?", especially at the start of that bass line and with the energy and vibe of the track. "…Fire" is certainly the closest song to compare the angel of 8th ave. to when it comes to anything off of "…Lightness", and that's not a bad thing.
The angel of 8th ave. is more positive than "…Fire", however, both musically and lyrically which songwriter and vocalist Dave Le'aupepe has said is essentially a love song devoted to his wife.
One only has to listen as far as the first chorus to hear that same optimistic spirit in the face of adversity that was a signature of "Go Farther in the Lightness":
I wanna lay me down and be lover of the year
In this strange new town, this strange hemisphere
Le'aupepe is one of my favorite lyricists at the moment and is adept at cleverly presenting common themes with a refreshing perspective.
A couple of my favorite lines after a few listens are both particularly sweet in highlighting his wife's attunement to his mind and troubles:
God, it was state the art
You called each of my sorrows by name
and
And when my old man was near to the end
You loved his broken body
In thе same way that I did
The latter lines reference Le'aupepe's father who passed away well before his time in 2018. This will undoubtedly be one of the major themes of their subsequent, still unannounced record. It's a beautiful thing, though, to have someone so well suited to you in your corner in the face of life's greatest challenges and tragedies, and I love the way that Le'aupepe describes it for his wife.
Getting back to the song as a whole, the vibe that the angel of 8th ave. strikes from that intro is basically what it sticks to throughout. It's an effective, constantly moving piece throughout, never evolving too much.
The verses are restrained and conversational to serve Le'aupepe's experiences, and the chorus subtly, perhaps too much so, comes straight out of it.
The chorus in particular doesn't get quite as big coming out of that verse as I would like. The hook feels more like an extension of the verse, and the first one comes and goes too quickly. You get a bit more in that second chorus which repeats, but it never gets to the heights that I was craving.
I like the melody, but just for the sake of saying I noticed it, the vocal melody in the chorus actually sounds very reminiscent of the opening of each verse of "Atlas Drowned", also from "…Lightness".
There's a very satisfying frenetic guitar solo after the second chorus which feels exactly like something longtime lead guitarist Joji Malani who left in 2019 would have written and performed, so it's nice to hear that element is still intact in Malani's absense.
After that solo, the song ends on a coda of Le'aupepe emotionally repeating "there is heaven in you now" over top of some soaring saw synthesizers as the track crescendos. The second half of the coda is where you can really feel the emotions coming through as he pushes his voice higher on that line which is the high point of the entire track for me.
The angel of 8th ave. review Score: 4/5
Earlier, I compared this to "What Can I Do if the Fire Goes Out?" which itself turned out to be somewhere in the middle in terms of my favorite tracks from "…Lightness". I feel very similarly about "…angel".
It's a solid track through and through with a great pacing to it and the production is on point. I just wanted that hook to be bigger and stand out more on its own. In the context of the song, though, it makes sense and certainly works.
Maybe the best thing about this song is that it's a welcome signal that Gang of Youths are back after a 4 year break, at least in terms of new music, and I eagerly (if not impatiently) await the subsequent full length.
You can listen to the angel of 8th ave. or purchase it through https://www.gangofyouths.com/