Here's our indie pop playlist for April 2023, featuring the best in independent pop and alt music:
Here are a few tracks to draw a bit of extra attention to in our indie pop playlist for April 2023 to enjoy the first full month of Spring to.
You Can Get It (Bumper) – I feel like I'm floating on air with the breezy vibes and hooks to kickoff our indie pop playlist for April 2023 in Bumper's "You Can Get It".
Thumbs (Zander Hawley) – Great indie pop folk track from Zander Hawley that I can't help but play on repeat over and over.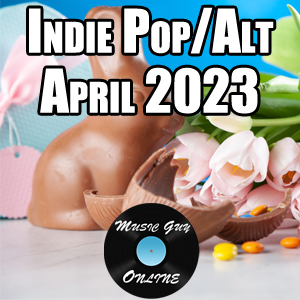 In Steps (Letting Up Despite Great Faults) – There's a nostalgia to the hook and vibes of this track which reminds me of my favorite Smashing Pumpkins song, "1979". The drum machine like percussion and repeating lofi digital instruments, it's great for a late night drive.
Swimming Pools at Night (Talltale, Laur Elli, Father Bobby Townsend) – A synthwave track centered around a very simple hook delivered by both vocalists, this is another great one to play late at night, perhaps while in a swimming pool (see what I did there?).
Joyride (Adam Melchor) – Excellent hooks centered around wide panned vocals and an epic trumpet part, "Joyride" from Adam Melchor is an excellent track.
Sunday (Lawson Hull) – Just a great pacing throughout Lawson Hull's "Sunday". The drums are effectively used to drop in and out as necessary, like just before a minute and a half for the first chorus. I really like how they keep the tension up a little after three minutes in and keep building on it with the slide guitar.
Light Years (Dizzy) – Nice acoustic electro track with a very catchy hook to finish off this indie pop playlist for April 2023.