Here's our indie rock playlist for April 2023, featuring the best in independent rock and punk music:
It's the first full month of spring, so help set the proper mood with our indie rock playlist for April 2023. As usual, here are a few of my favorites to highlight.
Manta Rays (chloe moriondo) – chloe moriondo's "Manta Rays" feels like it would be on a mix-tape a friend made for you circa 1990. Great hook on the chorus and just the right amount of lofi on this one.
Cheer Captain (Charli Adams) – Excellent moody track from Charli Adams with that kind of 90's beat and production and just the right amount of grunge supporting that acoustic guitar on the chorus.
the fatalist (girlhouse) – I love the management of the dynamics in this one. How good is it when that first proper chorus comes in with the drums around it a little after a minute in?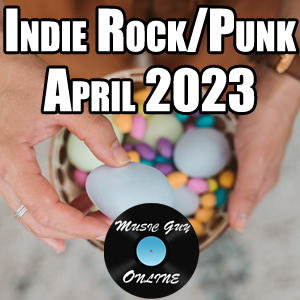 Turtledoves (Gingerlys) – Has the energy and vibes of a Pains of Being Pure at Heart track with some great female vocals, I love this one from Gingerlys.
Plant Trees (Chappaqua Wrestling) – I just like the vibes on this track. Good chorus and use of vocal width and processing on it, as well.
Springing Leaks (Algernon Cadwallader) – I personally think a lot of mathy rock sounds similar, so when a track stands out like this, my ears perk up. The vocals and journey the song takes you on are the standouts on Algernon Cadwallader's "Springing Leaks".
Turn Away (Sea Lemon) – Lush feel good dream pop from Sea Lemon, "Turn Away" is a good time.
One Year Stand (Frankie Cosmos) – We end this indie rock playlist for April 2023 on a chill note with Frankie Cosmos' "One Year Stand". The changing the notes with the vocal works really well on this intimate track.