Here's our indie pop playlist for August 2023, featuring the best in independent pop and alt music:
Here are a few tracks to draw a bit of extra attention to in our indie pop playlist for August 2023 to enjoy the hottest month of the year.
Awake (Plastic Picnic) – Plastic Picnic are low key one of the most reliable bands for putting out low key catchy tunes that stick around in your head and "Awake" is no exception.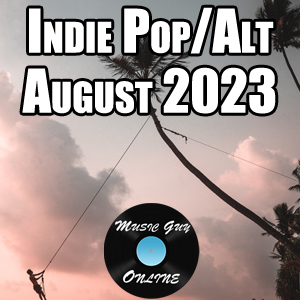 the movies (Nightly) – Great indie synth pop rock song from Nightly with an excellent use of space.
Reminded (Sun June) – Beautiful song from Sun June. With the slow pacing and vibes of one of Land of Talk's more intimate songs, I love the feel and developments of this one especially late in the song when the sax begins to enter the mix.
I Bet Ur (Bridget Kearney) – Great, head bobbing/laid back groove centered around a memorable lyric and infectious hook, what's not to like on Bridget Kearney's "I Bet Ur"?
Graveyard Town (Suzie) – The verses are okay but mostly serve to set up a very fun and catchy chorus thick heavy on vocal effects. This is just a fun indie synth pop track.