Here's our indie rock playlist for August 2023, featuring the best in independent rock and punk music. This one is especially strong:
It's the height of summer, so enjoy this indie rock playlist for August 2023 to keep cool during the hottest month. This is really one of those take your pick playlists from us since this one is stocked with so many standout tracks. This is certainly by no means a slight against the rest, but here are a few we'll highlight nonetheless.
9/10 (Keyboard Dog) – It's all about the vibe mixed with that vocal when that chorus hits on Keyboard Dog's "9/10". The lofi production is perfect for this one. It's hard to not throw a hand up and sing along when the chorus hits.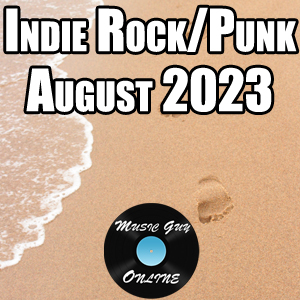 Dancing to the Smiths (Hannah Eid) – A simple driving rhythm keeps this one going under a good lyric and vocal from Hannah Eid on "Dancing to the Smiths". The chord progression is nothing revolutionary, but sometimes the right change at the right time is all you need like the introduction of that minor chord on the prechorus with the change.
Spinning (Jail Socks) – This one reminds me of high school, downloading obscure but awesome pop rock songs from MP3.com (that was a thing back in the day). In a genre where the song is only as good as its chorus hook, Jail Socks knock it out of the park on "Spinning".
Space Between the Bed and the Wall (Hannah Cole) – One of the more subdued songs from a new singer songwriter I've been getting into as of late, be on the lookout for Hannah Cole because of songs like "Space Between the Bed and the Wall".
Death Deserves a Name (Can't Swim) – Just a solid rock number from Can't Swim as those chords and melodies steadily wash over you on that chorus.
Who Will Run the Starfish Hospital? (The Paperbacks) – A song which has been out for awhile but this power pop rocker from The Paperbacks is a perfect song to play on a summer day, and an excellent addition to our indie rock playlist for August 2023.