Here's our indie pop playlist for September 2023, featuring the best in independent pop and alt music:
Here are a few tracks to draw a bit of extra attention to in our indie pop playlist for September 2023 to wind down your summer and maybe your summer vacation to.
Everywhere (Hot Dad) – Hot Dad does a beautiful, dreamy, floaty synth pop take on Fleetwood Mac's "Everywhere" to kick off our indie pop playlist for September 2023. The perfect cover to send to that summer love of yours.
This Time Around (wylie hopkins) – Chill and laid back tune with some John Mayer vibes if he leaned more into an indie pop vibe.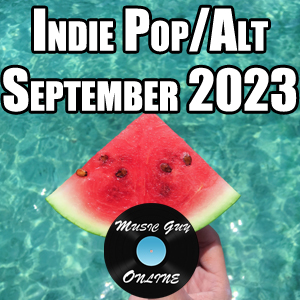 Very Busy People (The Limousines) – This feels like it could have gone on the O.C. soundtrack back in the day. Incidentally it would have fit in well thematically, as well. Either way it's a very catchy tune indeed.
Seen (Jupiter Winter) – Far and away my favorite track from Jupiter Winter, it's a great example of how effective introducing a new chord for the first time in a song can be as we get that 2 on the prechorus before we launch into an epic chorus.
Nervous at Night (Charlie Hickey) – Great low key kind of alt pop rock song from Charlie Hickey.
Charlie IO (Ellevator) – That "teasing" chorus will worm its way in your brain as you're bobbing your head in time.
Tiger Balm (Emmitt Kai) – It took me until I was listening to Emmitt Kai's "Tiger Balm" just now to realize that the third chord in the progression (a sharp 6th?) and the melody around it, especially in the solo, is channeling Thompson Twins "Hold Me Now". Either way, both great songs, but that was driving me crazy until I picked up on it.
southview (8485, fish narc) – This is one of those songs which starts one way and then takes you in a completely different direction. It starts out like a modern alt emo track until the bleeps and boops begin at 1:20 and that vocal octave gets layered and turns into a complete electronic breakdown. That's the best part as they throw a lot of ear candy at you on this one; very interesting track.
Don't Tell Anyone (Semler) – I'm a sucker for a good groove and a simple yet effective hook (an easy to grab on to universal lyric always helps, too). There's a fair bit of ear candy and dynamics in the composition on this one, as well, but it all gets grounded in that chorus.
Andrew (M Field) – There are shades of Vampire Weekend on here, but it would be a disservice to leave it at that. M Field do a lot of interesting things on this vibrant track. I love the production and guitars in particular on this one.
Boy Next Door (Test Subjects) – I don't know about the occasional intentionally cheesy dialogue in the background, but this is another example of a great hook centered around a catchy (titular) lyric.