Here's our indie rock playlist for June 2022, featuring the best in independent rock and punk music:
There are a LOT of tracks to highlight in this very stacked indie rock playlist for June 2022.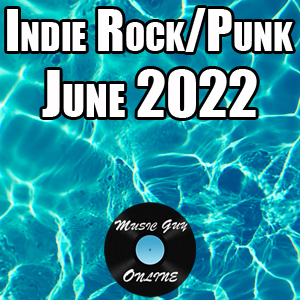 The South (John Louis) – John Louis' "The South" is one of the best builders I've heard in awhile. That chorus gets bigger every time, starting through a chip-on-its-shoulder but restrained acoustic intro before finally perfectly culminating for that final minute or so in the biggest way possible; it gives me chills every time.
Flowers (Under All My Shadows) (Meishi Smile) – A really trippy song which makes good use of vocal effects and really picks up after the midway mark, Meishi Smile's "Flowers…" is over a bit too soon for my tastes but a solid track just the same.
Change Your Mind (NOVACUB) – A lot of NOVACUB's music sounds like Bloc Party if they continued to make uptempo and frenetic music ala their debut Silent Alarm. This shouldn't be a surprise when you learn that half of the band is made up of members of Bloc Party. It's a good sound, though, with a bit more emphasis on pop and rock.
Don't Be So Hard on Yourself (Alex Lahey) – "Don't Be So Hard on Yourself" is good time rock n' roll with a fun chorus and a big sax which sounds like vintage Bruce. What's not to like?
Wait a Minute My Girl (Volbeat) – Another solid modern take on some Springsteen-like good time rock complete with bouncing saxophone riff, Volbeat's "Wait a Minute My Girl" is a refreshing gem.
Sleepyhead (Camp Trash) – Camp Trash is a promising newcomer to the world of emo-revival meets pop rock fusion that's doing quite well under the radar these days, and their "Sleepyhead" is a great representation of their sound.
Drunk II (Mannequin Pussy) – The vocals are far and away the star of "Drunk II" from Mannequin Pussy. The desperate delivery sucks you into this song from their first appearance.
Rot (Dad Bod) – I love when this song explodes in the last 30 seconds, I just wish it would come sooner. It's hard to tell if it would be nearly as effective if it happened sooner considering how starved you are for that explosion after the calm and quiet majority of the song, though.
Separate Houses (Press Club) – Another gritty rocker with knockout vocals, "Separate Houses" from Press Club brings the energy from the start.