Here's our indie pop playlist for July 2022, featuring the best in independent pop and alt music:
As always, here are a few songs I'd like to circle in this indie pop playlist for July 2022 to enjoy the heights of the summer:
Let You Down (Jacob Jeffries) – Jack Jeffries' "Let You Down" has a laid back, feel good beat, tons of bouncing ear candy, and a constant ethereal drone which makes this the perfect song to kick off this indie pop playlist for July 2022. Love that intimate line on the bridge right before that final chorus hits, as well.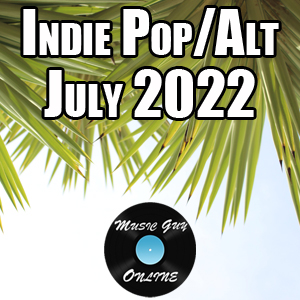 Lucky Me (Glowbug, Lourdes Hernandez) – "Lucky Me" isn't the typical indie pop track I include on these playlists; it's got more of a crooner vibe which Panic ventures into on occasion. A great hook and groove, and it just gets better the longer it goes.
Sounds Are Fine (Sophie Moon, Dan Andriano) – This is a lovely little indie pop with folk leanings (and a train beat on brushes) track in "Sounds Are Fine" from Sophie Moon and Dan Andriano.
How Many Nights Do You Dance With Tears in Your Eyes? (Love You Later) – Love You Later's "How Many Nights Do You Dance With Teras in Your Eyes" is a bubbly dream which feels like a warm hug. Its beat and chord progression feels reminiscent of The 1975's "Paris". It's an 80's fantastic feel good throwback.
Soft (Babygirl) – Babygirl's "Soft" is very much a lateral from the last track and has a similar vibe to it. Maybe a bit more low key but another track which will have you tapping your toes throughout and it builds nicely.
Automatic (Houses, Dawn Golden) – "Automatic" is one of those tracks which pulls me in from the start with that unique retro-perfect synth lead. That's not to sell the rest of the song short; the dynamics between the lofi verses and when that bass hits in the chorus is quite satisfying.
-h-o-u-s-e-k-e-y-z- (Field Medic) – Excellent guitar work in this track from Field Medic who strikes a very unique niche in the indie folk field.
Space Cadet (beabadoobee) – beabadoobee's vocals are perfect for this kind of lofi but excellently produced indie pop rock, and Space Cadet is one of her best.