Here's our indie rock playlist for July 2022, featuring the best in independent rock and punk music:
We've got the indie rock to make your July 2022 just a little bit hotter.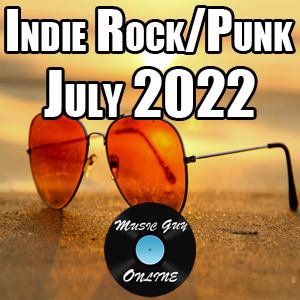 I Know You're Wrong (Another Michael) – Great tune from Another Michael who I'm quickly becoming a big fan of.
Back to You (Hardcastle) – There's a really nice laid back vibe to Hardcastle's "Back to You". It has some serious The Band Camino vibes, and it's a great tune.
Boat Accident (Keuning) – Dave Keuning is best known as the guitarist for the Killers, but like every other member of the band, he's gone and put out his own record. It's a straightforward rocker, but maybe it's its simplicity which allows that chorus to get stuck in your head.
Revive (Crying) – Crying's pumping power pop "Revive" will make you feel pretty much invincible for 3 minutes straight. What better praise can you get to an indie rock track than that.
A Lull in Traffic (The Gloria Record) – If it sounds like a classic emo track ala the late 90's, that's because this is indeed an oldie circa 2000 from The Gloria Record, but it's still a great track for fans of Static Prevails or Clarity era Jimmy Eat World.
Fruity (Rubblebucket) – I love the laid back yet angsty under the surface vibes of Rubblebucket's "Fruity". It's like a song I could picture hearing in my dentist's office when I was a kid in the 90's in some alternate reality. Very nice vibes on this one.
King of the Road (Piebald) – It should be no surprise from the title, but once this track revs up it's a great tune to put on while hitting the road. There's a very nice contrast between what feels like a wistful Ben Folds Five kind of verse before cranking up into that rocking prechorus/chorus/post chorus.