Here's our indie rock playlist for June 2023, featuring the best in independent rock and punk music:
It's arguably my favorite month on the calendar, so rock along with our indie rock playlist for June 2023. Here are a few tracks I'd like to highlight:
There Was a Door (Crying) – Crying pulls together a sound like Passion Pit with more rocking chaos on "There Was a Door", and it's a great way to kick off this indie rock playlist for June.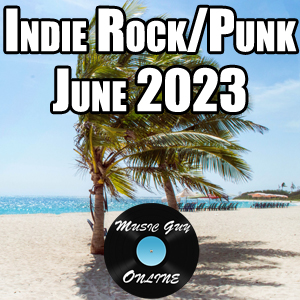 Satellite (Invalids) – I love how much ground Invalids cover on "Satellite" from some lovely accapella to infectious math rock.
For Mia (Owen Beverly) – This is an oldie which never quite got the love it deserved when it was released, so I thought we'd give it some on our June indie rock playlist years later. Excellent melodies and changes all over this one.
Rekindle (Brave Bird) – Brave Bird's "Rekindle" is a great tune with strong dynamics between the verses and chorus and that throwback midwest emo sound.
Call From You (Anxious) – Great unbridled rock from Anxious on "Call From You".
Nicole (Acting Natural) – Great vocal melodies on Acting Natural's "Nicole", this has a mid 2000's indie rock kind of vibe to it, almost like you could expect to hear it in the background of "The O.C." back in the day. If only they had featured a main character named Nicole.