Here's our indie rock playlist for May 2022, featuring the best in independent rock and punk music:
There are a LOT of tracks to highlight in this very stacked indie rock playlist for May 2022.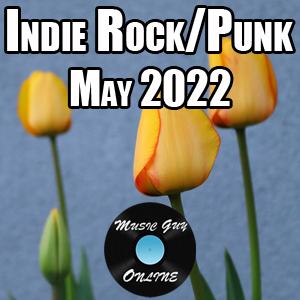 what about you? (Worst Party Ever) – Worst Party Ever's "what about you?" is on the shortlist for tracks which I could listen to until the end of time and never tire of it. The laid back beat and synths paired with the just-lush-enough-to-wash-over-you guitars match perfectly underneath the aloofness of the vocal delivery. It's such a simple song but strikes the perfect vibe.
Lazy Love (Tanukichan) – Tanukichan's "Lazy Love" has a really nice grungy groove to it. It never quite reaches the heights that I want as I was looking for certain sections to strike a different chord (literally) here or there and feel like there's a lot of potential here as it ends right as it feels like it's getting going, but still a solid track.
New Mistake (Jellyfish) – Since most of the stuff I get recommended and discover is from the last decade, I made the mistake (no pun intended) of thinking that Jellyfish's "New Mistake" was a recent song which nailed its vintage production sound. Then I learned it's from 1993. BUT, still a great blue eyed soul track which sounds like it came from the 80's.
Vacation Home (Whitehall) – Speaking of which, though, there are a lot of recent bands pulling off more vintage sounds expertly. Whitehall's "Vacation Home" is a sax fueled jam with 70's drums and lead guitar that'll have you bopping your head and tapping your toes.
I Dare You (The Regrettes) – This is more a band imitating the classic sound of a band imitating a classic sound. In other words, The Regrettes' "I Dare You" is a perfect Strokes-esque track through and through. It feels like a blatant imitation, but when it sounds this good who cares?
I Meant to Hurt You (D.I.D) – We quiet things down a bit with D.I.D's "I Meant to Hurt You". I'm a sucker for the good use of a three in a chord progression like they do on that chorus. Nice contrast with the verses, as well. Nothing earth shattering here, just a good track which feels like an early 2000's British sound.
She's the Prettiest Girl at the Party… (Frank Iero) – The guitarist from My Chemical Romance's vocals sound very reminiscent of Conor Oberst which makes this quiet rocker remind me of Oberst's Desaparecidos. Good tune.
1995 (Blue Dahlia) – This is a good shoe-gazey type track dripping with nostalgia, but I mostly want to highlight it for its blatant use of New Radicals' "You Get What You Give" melody in its verse.
Drunk II (Mannequin Pussy) – The vocals are far and away the star of "Drunk II" from Mannequin Pussy. The desperate delivery sucks you into this song from their first appearance.
Rot (Dad Bod) – I love when this song explodes in the last 30 seconds, I just wish it would come sooner. It's hard to tell if it would be nearly as effective if it happened sooner considering how starved you are for that explosion after the calm and quiet majority of the song, though.
Separate Houses (Press Club) – Another gritty rocker with knockout vocals, "Separate Houses" from Press Club brings the energy from the start.