Here's our indie pop playlist for May 2022, featuring the best in independent pop and alt music:
As always, here are a few songs I'd like to circle in this indie pop playlist for May 2022 to enjoy the changing of the season:
Beautiful People (Infinitefreefall) – Sometimes a synth sound is so good it merits an inclusion on our indie pop playlists, and this May that is certainly the case with Infinitefreefall's "Beautiful People". It instantly establishes the vibe of this track, and it's wholly unique.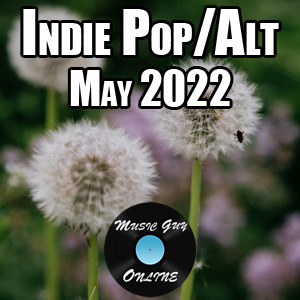 Real Life (Cayucas) – Cayucas' "Real Life" is a dance party through and through, with its vinyl spins and rhythmic synth "strums" on that chorus.
Tennis (CASTLEBEAT) – There's something very catchy about the lofi production and simple melodies of CASTLEBEAT'S "Tennis" that has me putting it on repeat.
I Will Be Waiting (Let's Eat Grandma) – "I Will Be Waiting" is the standout for me from Let's Eat Grandma's discography. There's something unique about the emotional music and melodies of this track.
//// (Covey) – A big part of the draw of Covey for me is the vocals which rustle up some nostalgic vibes for me, and //// is as good a track as any to include on this indie pop playlist for May 2022 from them.