Here's our indie rock playlist for October 2021, featuring the best in independent rock and punk music:
This is a solid rock playlist track for track, but I have a few songs which I want to draw some extra attention to in this indie pop playlist for October 2021: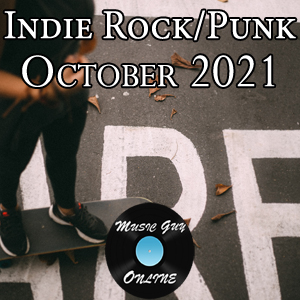 Jody (Hey Steve) – There's just the right amount of cheese in this song, and yes that's a compliment. Hey Steve's Jody has shades of 1980's wave rock like The Cars but a bit more out of control. But I'm burying the lead – that "J J J J J J Jooody" hook will be stuck in your head for days.
Waste My Time (Young in the City) – This feels like a song from Ryan Adam's rocking early 2000's period. The vocals and production are very similar, but it's just a great rocking track.
Ruby (Charly Bliss) – This is the song which got me into Charly Bliss. Vocalist Eva Hendricks has a wonderfully unique timbre. It's nasally in the best way possible and suits the music perfectly.
Judy French (White Reaper) – Speaking of songs which got me into bands, Judy French immediately hooked me into White Reaper; a Kentucky based band doing a modern take on the epic solo driven rock of the 70's and 80's. Another unique vocal which pairs excellently with the music, as well.
It's Okay (Land of Talk) – This song always gives me chills when I hear it. The vulnerability of the vocal over top of a meandering and slow moody groove throughout is what makes this song special. It also features one of my favorite all-time lyrics on that chorus: "Maybe when I die, I'll get to be a car. Driving through the night, lighting up the dark." There's something incredibly wistful and bittersweet in the delivery and lyric itself that when I hear it I just think to myself… yeah, maybe that is the ultimate. Oh the chills. Incidentally, there's a powerful crowd-shot live version of this song from 2017 when LoT played this at the Bowery in NYC that I encourage you to check out. It had been the first string of shows after a seven year hiatus and vocalist Elizabeth Powell was not prepared for the crowd to sing along as loudly and passionately as they did, overwhelming and reducing her to tears. It's a sweet vid.
Angels in the Fog (Jailbox) – A beautiful, haunting track from Jailbox who have an impressive range in their sound as a band. The parts in this one transition effortlessly; an impressive feat considering the ground covered here. I love that second verse coming in with the extra vocal, and that instrumental bridge makes you want to float away with it.
Back Step (All the Real Girls) (Rich People) – I've probably said this before, but I love a song that pulls you in from the first notes. This is certainly the case with Rich People's Back Step (All the Real Girls). Again, it's the case where another voice couldn't do that part justice.