Here's our indie pop playlist for November 2021, featuring the best in independent pop and alt music:
As always, I have a few songs which I want to draw some extra attention to in this indie pop playlist for November 2021:
Feeling Like a Stranger (Midnight Faces) – This is the perfect song to kick off the fall season. I love the smooth tone on that synth which sounds like something out of a lowkey haunted circus.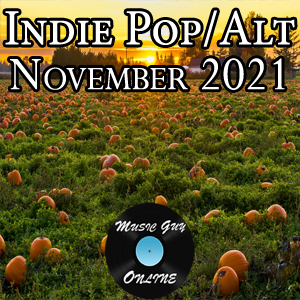 Sweat (The Technicolors) – The sway and groove of this hook feels like a reassuring warm hug (it's another one of those). They tease that chorus just long enough so that when it comes in it just washes over you as you nod along. Blind Pilot's one of those bands I hear a lot about but never gave much of a listen to, but this is an excellent track.
State of Mind (Satchmode) – The cheese is real in this one, and I love it. It's not too many tracks which can capture such a specific feeling. Those versus make me feel like I'm a robot on a conveyor belt, shopping in a pure white store, like one of those old Apple commercials. Then we flip the switch into what feels like a modern day Rick Astley tune on that chorus, doing the Carlton dance back and forth with a big ole grin on our faces.
SGL (Now, Now) – An oldie but a goodie, this is SGL's Now, Now. I love the efficient pacing of this one that hits just right.
Awake and Pretty Much Sober (Violents, Monica Martin) – Those synths are so wash-over-you luxurious on the intro and on that chorus. It's such a unique hook on that chorus, as well. I found this one pop back into my head months after first hearing it, and I desperately tried to track down who did it.
Darling (WOMPS) – Musically this isn't anything new in the synth pop shoe gaze overlap, it's just done really well that I can't overlook it. Such a simple yet effective hook on that chorus with the title lyric itself.
I Spend Too Much Time in My Room (The Band CAMINO) – This is the song that got me into The Band CAMINO. Admittedly it's a band that many of my listeners will be familiar with, but it's a great tune for this time of year and so unique both outside as well as inside their discography.
Sign (VHS Collection) – It's nice to see this one so high up in VHS Collection's many good tunes. To me it feels like more of a deeper cut, but happily it's done very nicely as a single. That chorus evolves nicely throughout the course of the track, getting bigger and bigger as it progresses.