Here's our indie rock playlist for November 2021, featuring the best in independent rock and punk music:
This is a solid rock playlist track for track, but I have a few songs which I want to draw some extra attention to in this indie pop playlist for November 2021: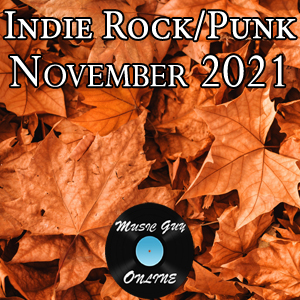 Hiding from the Sea (Whale Bones) – I really like this guy's voice for this sound and song in particular. I picture an abandoned and snow coated New England beach in January (or November), and that chorus has me mashing the repeat button. Okay you only need to hit the repeat button once, but you get my point.
Weak Days (Elder Brother) – The pacing and riffs in this one feel like a moodier "Ralph" from JANK. Nice dynamics, though, particularly as those vocals climb in that chorus.
Dizzy on the Comedown (Turnover) – Turnover is one of those bands which just keeps showing up recommended to me, so much so that I can't believe I still haven't sat down and gone through their entire discography. This record in particular is stacked, with "Dizzy on the Comedown" likely being my favorite from them. I love how they use depth and space in general on their tracks and this is an excellent example.
Lonely Codependent (Kayak Jones) – This was statistically one of my favorite songs from a couple years ago according to Spotify and it's easy to hear why; I had this one on repeat dozens of times. That chorus is sneakily one of the best in a rock anthems I've heard in quite awhile, I can't not scream along at the top of my lungs every time it comes back around. One of my recent obsessions and favorite track from Kayak Jones, "Lonely Codependent" earns them the rarity of appearing on back to back indie rock/punk playlists here on MGM.
I Can Feel You (Motion City Soundtrack) – A lot of folks are likely familiar with the stalwart Motion City Soundtrack. They've been one of my favorite rock bands since their debut "I Am the Movie" way back around 2003. My favorite records from them are their first three and my attention admittedly dropped off with each subsequent release after My Dinosaur Life. "I Can Feel You" came on a playlist for me and I was surprised at how much I like it as it's a great track from the last record their released just before their breakup. That verse has a "Sex on Fire" feel to it and the bouncing around transition between the chords on the chorus is great. But if I'm honest, it's that slowed and spacey bridge featuring the titular lyric which brings it all together for me, particularly when layered on that angsty subsequent bit. It's one of the best moments from MCS' discography, and that's no small praise.
Loveblood (Sundara Karma) – "Loveblood" has a powerful heaviness to its energy that's hard to describe. It's a nice fusion of a few different sounds. That chorus has such a great urgency to it coming out of that miniature build. Anytime a chorus (successfully) starts on the 5, I'm in, and "Loveblood" crushes it along with its exotic synths.