Here's our indie pop playlist for December 2021, featuring the best in independent pop and alt music:
As always, here are a few songs I'd like to circle in this indie pop playlist for December 2021:
I Know (Private Island) – Great tune to kick off this indie pop playlist for December. I love the way that chorus melody is both staggered and drawn out on Private Island's I Know.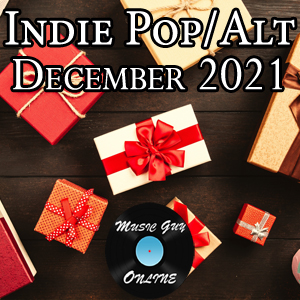 Wicked Thing (Dear Rouge) – Combine excellent vocals over top of a beautifully produced fusion of synth, pop, and alt rock and you have Dear Rouge's Wicked Thing.
All I Ever Wanted (American Pleasure Club) – American Pleasure Club throw a lot of styles on you on every one of their releases. "All I Ever Wanted" is far and away my favorite off of their "Tour Tape" release. Starting off with a sultry cello like something out of a detective noir film, the track quickly descends into a wall of luxurious sweeping, enveloping synths underneath dreamy vocals in this nostalgia meets townie piece.
Foam (Sun Airway) – Speaking of sweeping and enveloping synths, Sun Airway nails the luxurious vibes on arguably my favorite song from them, "Foam". It's all about that falling chord progression and melody on the chorus which never wears. This track (and artist) doesn't get enough love.
Obstacles (Syd Matters) – Syd Matters' "Obstacles" prescient and sentimental lyrics fit perfectly thematically with "Life is Strange" which I can't help but associated it with. That first minor chord hitting on the chorus shows the refreshing impact of holding back a note til just the right moment.
Lonely the Night (Yola) – And now for something completely different. I don't make enough niche playlists, otherwise this would be on your modern takes on 70's soul meets country with serious shades of Glen Campbell mix. Too many fusions to mention, I just know it works.
Buck (SISTERS) – I love a good 1-6-4 progression when it's done well, and the timing and spacing makes this one feel huge. The vocals from SISTERS are perfectly suited for the tone here over a driving beat with the occasional disco string flare-up providing a bit of ear candy. It's a simple song which is why it works so well.