Here's our indie rock playlist for December 2021, featuring the best in independent rock and punk music:
This is a solid rock playlist track for track, but I have a few songs which I want to draw some extra attention to in this indie pop playlist for December 2021: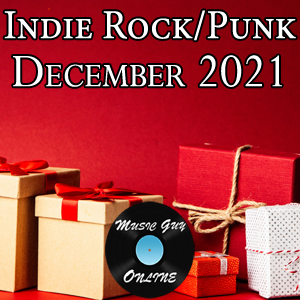 Rubix (Deafcult) – With those shoegaze vocals buried under verb heavy guitars, "Rubix" is a satisfying fusion of dream pop and alt rock to kick things off.
Thumbnail (Really From) – The strong midwest emo vibes mix beautifully with some mathy clean licks and some jazzy trumpet on "Thumbnail" from Really From. Definitely one of my favorites from this month.
Astoria (PLTS) – I've said it before but I'm a sucker for a straightforward but solid pop punk/rock song. "Astoria" from PLTS is exactly that. Good tune.
Wax Poetic (A Day at the Fair) – Speaking of which, I have to give a shoutout to A Day at the Fair's first song and EP back after over a decade. Their sole full length "Rocking Chair Years" was an EXCELLENT addition to the scene which didn't get enough love back in the day (including my favorite track "This is Why We Don't Have Nice Things". "Wax Poetic" brings back their trademark anthemic Jersey pop punk sound after far too long.
Birthway (We Were Glue) – This song ends completely differently than it begins; it's one of those which pays dividends the more you stick with it. It starts off as a fun little quirky song before evolving into a serious rocker that'll have you dancing around the room halfway through. And that little break before it comes back in huge on that final chorus… so much damn fun.
Berenstein (The Band CAMINO) – I know I've referenced and included The Band CAMINO on one of these playlists before, but I had to include what is easily my favorite song from them, "Berenstein". The title is a reference to the Mandela Effect – the phenomenon of a false memory. In it, the narrator applies this concept to a previous personal relationship; one which has died but which he imagines as thriving in an alternate reality, one where the misspelled Berenstein (rather than Berenstain, another Mandela Effect) is accepted as the truth. Just a beautiful feeling of longing and nostalgia captured both musically and lyrically.
Please Don't Tell My Father That I Used His 1996 Honda Accord To Destroy The Town Of Willow Grove, Pennsylvania In 2002 (Pet Symmetry) – The title took up virtually this entire description, but it's a great track and another where trumpets make the song.