Here's our indie pop playlist for January 2022, featuring the best in independent pop and alt music:
As always, here are a few songs I'd like to circle in this indie pop playlist to kick off your 2022:
Weekend Walking (birthday) – I liked that opening hook when The Hotelier used it in The Goodness Part 2, and I like it when it's a bit more chill from birthday.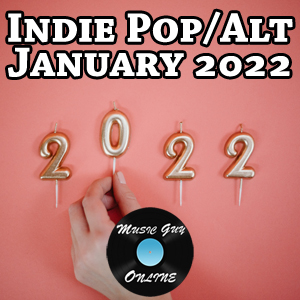 18 (Echosmith) – Echosmith does very nice work in the new wave synth rock pocket, and 18 is a great example of it.
Desert King (LGHTNNG) – This might be my favorite track from this playlist. Just a very nice low key synth wave centering around a simple hook. That post chorus is really nice, as well.
Velvet (Fickle Friends) – There's a lot of really strong poppy synth wave on this new year playlist now that I notice it. I like it when a song effectively starts the chorus on the 2 as Fickle Friends do with Velvet here.
Fake Love (FV) – Really nice production on this one in the management of the dynamics. It just keeps building at the right times and while there's no stand out hook, the song always keeps you engaged.
Kill the Noise (Me Not You) – This has a really grungy, dissociated 90's sound to it. The extra layer that lead vocals drops on top of the chorus makes for an excellent hook.