We Are Scientists are back with "Contact High". This comes three months ahead of their next planned release (titled "Huff"), out October 8th. Let's get to the track now in this We Are Scientists Contact High review.
We Are Scientists Contact High Review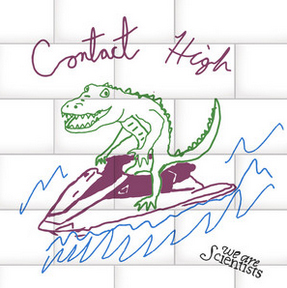 Contact High starts out with a little teased strumming before launching into a tight uptempo rocker with a simple guitar riff.
The production all over this track is on point. Chris Cain's bass cuts through the mix beautifully (love that little bridge lick to break the beat up, if only for a second). The drums sound tight while sticking to a similar beat throughout, though admittedly it serves the track well.
Like most of Contact High, this track is all about the energy and the vocal.
Speaking of which, guitarist and vocalist Keith Murray's voice sounds as good as ever. You get a nice splash of his falsetto which he mixes in on a lot of their tracks on that chorus.
I like that 2 to 3 chord change (for all my musician friends) on the words "con-tact high" in that chorus as well for a really nice build.
I've been a huge WAS fan for about 14 years now. I've caught them numerous times in that span and maintain that they are on my shortlist for best bands to see live.
Contact High is going to fit very nicely into their setlist and as one of the fastest singles they've ever released it's likely to be a crowd favorite, as well. Plus at roughly 160 BPM, it's great for jogging to.
Contact High Review Score: 4/5
I need to do a ranking of all of their records at some point, but Contact High is one of my favorite singles they've released in awhile and sees We Are Scientists exercising the more energetic, rocking end of their spectrum to perfection.
You can listen to Contact High or purchase it through http://wearescientists.com/