Here's our indie pop playlist for November 2022, featuring the best in independent pop and alt music:
As always, here are a few songs I'd like to draw especial attention to in this indie pop playlist for November 2022 to enjoy the beginning of the holiday season.
Ruthless (Cannons) – Cannons' "Ruthless" is just a feel good chill synth pop trip to kick off this indie pop playlist for November 2022. Good vibes all around.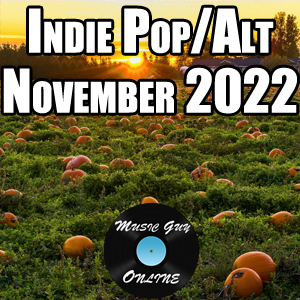 Spineless (Nick Lutsko) – I very much like the production on Nick Lutsko's "Spineless". Wide vocals, crackly effects, sparkling sax, this song is a mid-tempo party.
Mercury (Ruston Kelly) – I'm a sucker for a track which builds expertly. Part of crafting an expert build in a mix is catching the listener off guard. They can tell something is changing, but maybe can't put their finger on it. In the case of Ruston Kelly's "Mercury" the build is subtle for the first half before they just start layering in energy and instruments one by one. This is reflected in Kelly's vocals along with the instrumentation and it makes for a satisfying final half.
Fatalist Palmistry (WHY?) – Great vocal for the track from WHY? on "Fatalist Palmistry". It's performed and produced in such a way that it demands your attention on its lyrics. There's also a nice contrast between the aimless (in a good way) verses and when that chorus hits with purpose.
DON'T TELL THE BOYS (Petey) – I'm always wary of tracks which open with the title lyric, but Petey's "DON'T TELL THE BOYS" is a good enough slice of electronic indie rock to make me look the other way. Plus I'm a sucker for an O.C. reference.
name & place (dad sports) – dad sports strike a beautiful nostalgic tone between the lo-fi drums and chorus-heavy guitars teasing a few cents up and down from tune on their "name & place". Transporting you to another place and time; give it a listen and you'll understand why it's my favorite from them.
Little Things (Big Thief) – It's a similar vibe on Big Thief's "Little Things". Beautiful nostalgic vibes that is with a busy, never abating beat and jangly guitar. I kind of get Solsbury Hill vibes on this one.
18 Cigarettes (Ducks Ltd.) – Ducks Ltd.'s "18 Cigarettes" all comes together when that chorus hits. Nothing flashy, just a great hook.
Sagittarius Superstar (Coin, Faye Webster) – Between its production, vocals, and chord progressions, Coin and Faye Webster's tag teamed "Sagittarius Superstar" has a breezy late 70's/early 80's vibe like something out of a Bond film from the time.
Lawn Knives (Born Gold) – This track is a trip. Enough said. It's also very good.