Here's our indie rock playlist for October 2022, featuring the best in independent rock and punk music:
Let's highlight a few tracks in particular in this indie rock playlist for October 2022, perfect for watching the leaves fall and beyond.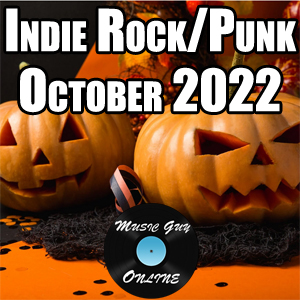 Your Favorite Show (Great Grandpa) – We've featured a couple of songs from Plastic Picnic before, but "Nausea in Paradise" is the one which got me into them in the first place and its hazy vibe feels perfect to close out the summer, hence starting off the Indie rock playlist for September 2022 with it.
Good Thoughts (Well Kept) – Between that drum machine and the acoustic guitars and general vibe of this track, it feels like a late 90's alt rock pop mashup. It's got a really nice chill vibe, perfect for driving to.
Understanding!… (Sunbears!) – Sunbears!'s (wow) brand of ethereal pop rock shines brightly on their "Understanding!…" track.
Keep the Car Running (Silver Torches) – I was expecting an Arcade Fire cover when I saw the title but was pleasantly surprised at this original track from Silver Torches which feels like a satisfying modern take on a song from America.
Scare Me (Ludo) – Appropriately numbered 31, this one is appropriate for this time of year. Sounding a bit more like the Ludo offshoot dance-pop band "Hot Problems" it's still nice to have a Halloween themed song from a solid scene band from the early 2000's in Ludo with their one-off return single "Scare Me".