Here's our indie rock playlist for November 2022, featuring the best in independent rock and punk music:
This indie rock playlist for November 2022 is specially curated to wind down your summer on a high note.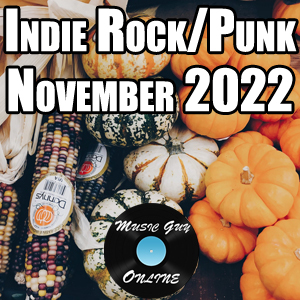 Operator Error (We Are Scientists) – We Are Scientists have always put out pretty consistently good music, and "Operator Error" is one of my favorite return singles from them in awhile.
Love You Everyday (Post-Party) – We kick off this indie rock playlist for November 2022 with a great uptempo rocker from Post-Party, "Love You Everyday".
Fading Out (Primitive Radio Gods) – "Fading Out" just has one of those relaxed vibes you can feel from the second those mid-tempo drums kick in. It's a case where if the vocals didn't match the vibe perfectly, it wouldn't work, but thankfully these vocals are perfectly suited here. Very nice unexpected chord changes in that post-chorus, as well.
Ten Feet Tall (Charlie Hickey) – Between the vocal tone and instrumental + production, Charlie Hickey's "Ten Feet Tall" feels like it has shades of late 90's alt rock and I mean that in the best way. That falsetto vocal throw in that chorus is a nice touch, as well.
Ugly Little Victory (Friendship) – In another instance of perfectly matched for their music vocals, aptly band named Friendship's "Ugly Little Victory" familiar sounding vocals and guitar will make you feel like you're sitting around a campfire with an old friend. I can't help but smile when I hear this one.
Million (I Feel Fine) – I Feel Fine scratch a very specific modern midwest emo itch well, and it's good to have them making music today. If you like those laid back midwest emo kind of licks underneath passionate gang vocals, "Million" is for you.
All of Me (Watashi Wa) – There's an air beneath Watashi Wa's "All of Me" which makes for a reassuring and feel good track. Great hooks from that prechorus to the chorus.
(May You One Day) Carry Me Home (The Forecast) – I love the contrast of the male and female vocals on this track from The Forecast. It has a great early 00's power pop meets emo rock vibe to it, probably because it's an older track (heh). The harmony on the chorus is particularly excellent.