Here's our indie pop playlist for December 2022, featuring the best in independent pop and alt music:
Here are a few tracks I'd like to draw extra attention to, a few standouts if you will in my mind in this indie pop playlist for December 2022 to enjoy your holidays to.
Drunk on a Rhythm (Gothic Tropic) – There's something sexy, sassy, confident, and addictive about the beat and groove on Gothic Tropic's "Drunk on a Rhythm" that has me obsessed with it.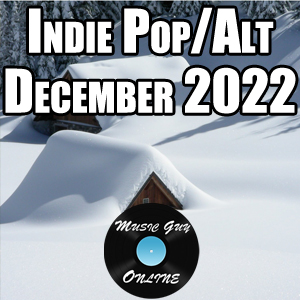 Little Lost (Gold Koa) – Another good midtempo groove with plenty of ear candy and some great vocal melodies and backing vocals on Gold Koa's "Little Lost"
Runnin' Outta Luck (Alex Cameron, Brandon Flowers) – Runnin' Outta Luck is an 80's fantastic track from Alex Cameron featuring Brandon Flowers. I'm curious how that feat. came about incidentally. Also incidentally, it sounds like it could've been a Brandon Flowers solo track if he had a very different producer.
House on Fire (Tall Heights) – Speaking of the 80's, Tall Heights' "House on Fire" can't help but conjure Springsteen vibes with that party sax opening. If the Killers leaned a bit more in that direction at the time, I could hear this on Day and Age.
Drama Queen (milk.) – Maybe the artist name "milk" is subtly influencing me but I get some 1975 vibes from this. It's a great hook which is made apparent by the fact that you don't get tired of it from the number of times they repeat it.
Better Off (Sjowgren) – Some songs just use changes and chord progressions which feel refreshing. This is definitely the case on Sjowgren's "Better Off" when that chorus sneaks up on you as well as that little solo.
Leave (Danny Malone) – Bringing a little indie folk to this pop playlist, Danny Malone's vocals on this are excellent at conveying the emotion behind the words; just a lovely song all around.