Here's our indie rock playlist for December 2022, featuring the best in independent rock and punk music:
This indie rock playlist for December 2022 is ideal for rocking through the end of the year, and here are a few of the standouts.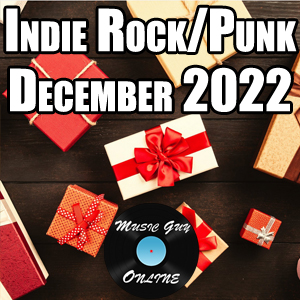 Haircut (Petey, Miya Folick) – We open this indie rock playlist for December 2022 with an angsty number from Petey and Miya Folick in "Haircut". It's one of those tracks which grabs your attention from the first vocal and holds it through to the end.
Breathe (Dom Fera) – Dom Fera's "Breathe" has some 80's shades with its synth meets pop rock vibes. It opens up nicely during that chorus as those uptempo drums drop in.
At it Again (Slow Pulp) – Great tight rocker from Slow Pulp in "At it Again". Those guitars feel reminiscent of Jimmy Eat World's excellent b-side from back in the day, "No Sensitivity" but anyway, solid track.
Valentine (Snail Mail) – Talk about fantastic managing of dynamics on a song. Snail Mail holds everything back in those verses. You don't even get the sense that anything is percolating during it, about to get huge on that chorus which makes that transition even more surprising and satisfying. And a fantastic hook on the chorus on top of that.
Freak Out (Miya Folick) – We had a song feat. Miya Folick earlier in the playlist, now she gets her own and what a powder keg this one is, exploding on that chorus with a truly impressive vocal that just continues to push it harder and higher.