Here's our indie pop playlist for September 2022, featuring the best in independent pop and alt music:
As always, here are a few songs I'd like to circle in this indie pop playlist for September 2022 to enjoy the end of summer:
Perfectly Out of Place (Dreams We've Had) – Beautiful, trippy, slow build that'll transport you to a different place and decade; I love Dreams We've Had's "Perfectly Out of Place" to kick off this indie pop playlist for September 2022.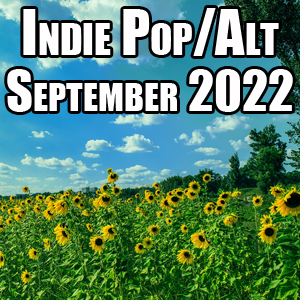 Endless Spring (Houses) – Just a good, evolving beat centered around a springy reverb riff to make an infectious hook.
Fooling Around (Remix) (Japanese Wallpaper, Savior Adore) – Savior Adore does a good job giving this song a simple, straightforward, lo-fi 80's pop remix that will have you nodding along.
Dumb Stuff (LANY) – LANY's "Dumb Stuff" isn't about the lyrics, it's about the pulsing beat and vibes you get from this song, squeezing every list minute out of what's left of the summer.
Pixelated (Arcade Dreams, Ellisay) – If synthe-wave is your thing, Arcade Dreams and Ellisay's "Pixelated" is a smooth sax and guitar showcase.
18 (Knox Hamilton) – Knox Hamilton's "18" will have you nostalgic for your last years as a teenager with, appropriately enough, a melody, beat, and production value of an early 00's Liz Phair song.
Talking to Myself (Gatlin) – A relatively lofi beat and some Imogen Heap sounding harmonies are hallmarks on Gatlin's "Talking to Myself".
Swimming (Ultracrush) – I love the way Ultracrush uses tempo changes in this laid back summery jam.
25 (oh pep!) – There's something classic about the vocal hook and use of bended//sliding strings on that chorus of Oh Pep's "25" that feels really familiar and lovely.
Car Crash in G Major (fanclubwallet) – I love all the ear candy on the wobbly "Car Crash in G Major" from fanclubwallet. Chill vibes.
Royal Blue (You Drive) – Very nice dynamic contrast between the verses and lush chorus which envelops you on You Drive's "Royal Blue".