Here's our indie rock playlist for August 2022, featuring the best in independent rock and punk music:
Another great collection of tunes to get you through the hottest month in this indie rock playlist for August 2022.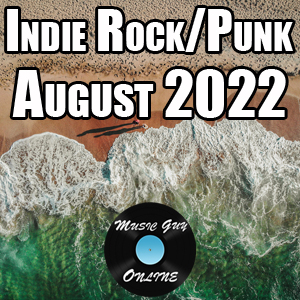 The Sunshine of Our Youth (Cheerleader) – I love the energy and positivity you get from that riff right at the start of Cheerleader's "The Sunshine of Our Youth". Great indie rocking tune about missing the invincibility of your younger days.
If You're a Lifer (Cataldo) – Always nice when a band you like comes back with some of their strongest material, and that's the case for me with Cataldo's "If You're a Lifer".
Bones (Soccer Mommy) – Soccer Mommy's music has a clear appreciation for 90's alt-rock and you can hear it on her "Bones". I especially love the vulnerability of that hook on the chorus.
Idaho (Slow Pulp) – Speaking of 90's grunge with some shoe gaze elements, Slow Pulp's "Idaho" is a satisfying slow trip with some throwback vibes.
Never Forget (Jason Barrows) – Some vocalists leave it all on the field so to speak with their performances. This is the best way to describe Jason Barrows' performance on the gripping "Never Forget"; a case where the vocals are perfectly suited for the track.
warm glow (Hippo Campus) – One of the quieter and more intimate tracks from Hippo Campus; good pacing and I like the time this one takes to build.
Dissolve (Hibou) – Hibou's "Dissolve" is a great tune anchored around a great riff. That blistering tone which delivers it is the secret sauce on this one.
bangbangbang (Deal Casino) – Great contrasts between the restrained intro to when those drums kick in and the controlled chaos and builds set in. Great track from Deal Casino in "bangbangbang".