Here's our indie rock playlist for February 2023, featuring the best in independent rock and punk music:
This indie rock playlist for February 2023 is perfect for spending Valentines Day alone or with that special someone. As always, I'd like to highlight a few tracks.
Operator Error (We Are Scientists) – We open this indie rock playlist for February 2023 with a triumphant return from We Are Scientists with "Operator Error". Keith's vocals have never sounded better, and it's full of energy and great hooks. Expect a review of their new record on here soon!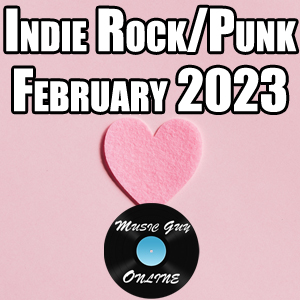 Ignore Me (Mothé) – This feels like a laid back 90's alt rock tune that could've surfaced on the "Can't Hardly Wait" (anyone remember that one?) soundtrack.
Nine Stories (Hazel English) – It's songs like this which to me make Hazel English Day Wave but with a female singer, and that's perfectly fine as her voice translates beautifully to his production in this indie rock/synth/lofi genre.
Stella (Teenage Wrist) – I get Juliana Theory meets Chain Gang of 1974 vocals vibes in this one. A bit different from their normal sound but a good, albeit depressing, tune.
It's Alive! (TOLEDO) – Beautiful song with some beautiful changes from TOLEDO, I love when that chorus hits smooth and big after the staccato-like delivery on the vocals in the verse.
Feel It Coming (Woodlock) – I featured a quiet indie folk number from Woodlock years ago, but "Feel It Coming" proves they can rock when they want to and without having to have soaring vocals to sell the song.
Last Star (James Ivy) – James Ivy does a modern song with shades of the late 90's alternative pop rock quite well to close out this indie rock for February 2023 playlist on "Last Star".