Here's our indie pop playlist for March 2023, featuring the best in independent pop and alt music:
Here are a few tracks to draw a bit of extra attention to in our indie pop playlist for March 2023 to ring in Spring to.
Ohio (Wild Pink, Samia) – I love the weight of the thick haze which is at the heart of this track but Wild Pink and Samia.
Love of My Life (Summer Camp) – Proof that we're giving you a lot of looks in this indie pop mix is going from track one into Summer Camp's throwback disco croon "Love of My Life".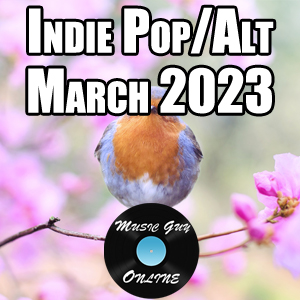 Shake Her (Fickle Friends) – This isn't Fickle Friends' first entry on one of our indie pop mixes and I doubt it will be the last. Just a fun dancy track.
Home (Caribou) – Head bobbing vibes, lofi urban meets motown beats, and the effective use of samples makes Caribou's "Home" a standout.
Applause (Au.Ra) – Great midtempo indie alt synthe stylings on Au.Ra's "Applause".
Fall In Love (Caroline Kingsbury) – Caroline Kingsbury's "Fall In Love" has a ton of attitude and balances the contrast between simple verses and heavy chorus layering expertly.
Sunday Funday (TOLEDO) – TOLEDO makes moody fun music, and "Sunday Funday" is yet another example of that.