Louisville, KY rockers White Reaper are back with their fourth studio album, entitled "Asking for a Ride". It's a short but tight collection of modern rock colored in shades of the classic rock of the 70's and 80's as we talk about in this White Reaper Asking for a Ride review.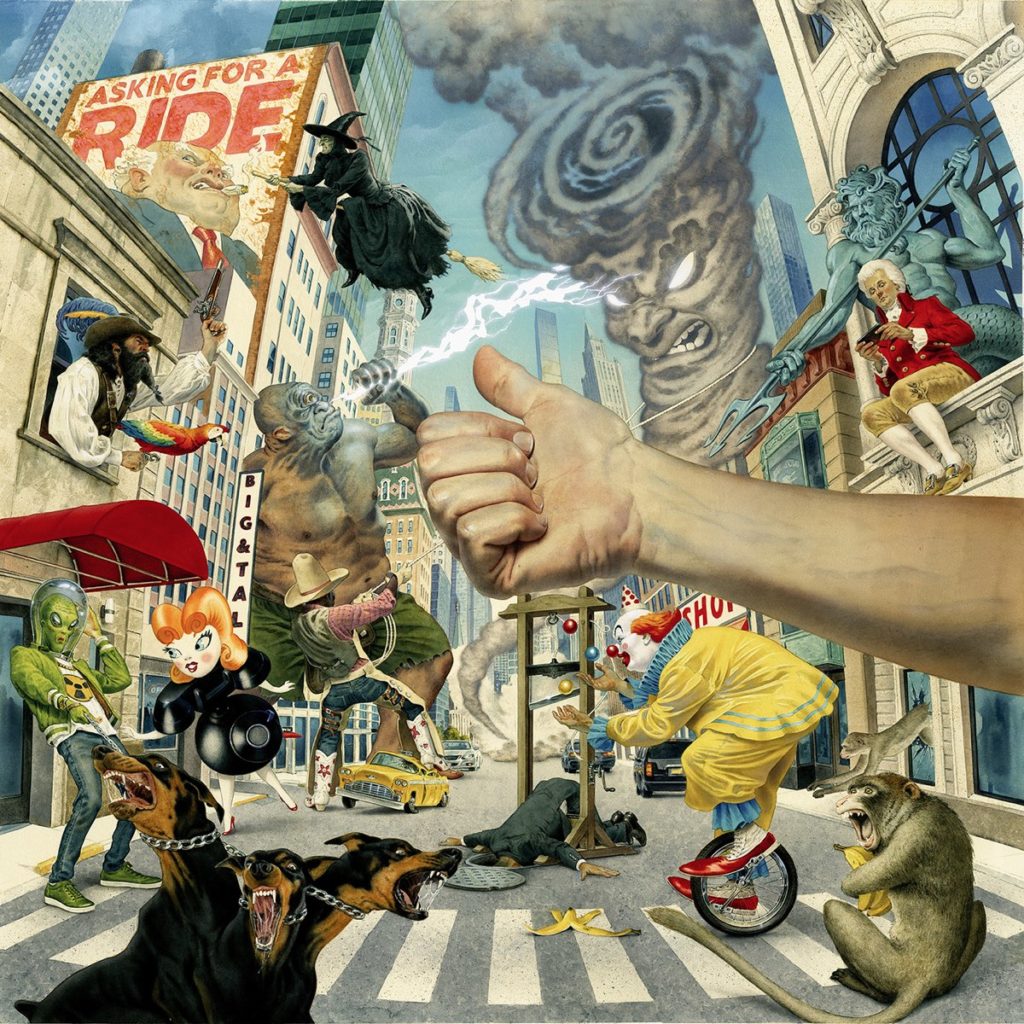 White Reaper Asking for a Ride Review
I love that album art, by the way.
The album opens with the energetic title track, "Asking for a Ride" itself to let you immediately know what you're getting with White Reaper.
The guitar tones, the vocals, and even some of the breaks sound reminiscent of Minnesota rockers Hüsker Dü. It's uptempo, full of noodling, and even ends on a solo.
I like the title track, but as soon as track 2, "Bozo", starts out I couldn't help but think it would have made for a better opener.
I get it, you want to open with the title track and all that, but Bozo would make for one heck of an opening statement with that opening riff.
Everything about Bozo is more straightforward than the title track. There's very few fills, just a solid uptempo track with a wall of guitars and a simple but effective vocal melody. And when those vocals come in you just know you're in good hands.
Track three is the highlight of the record for me in "Fog Machine". Released as the second single ahead of the record, you can make the argument that this is the strongest track White Reaper has yet to release, even eclipsing the feel good rocker which got me into them, "Judy French".
Fog Machine starts with a heavy riff which sets the tone throughout it, but at its core it's a fun, bouncing rock number which White Reaper nail like no other band today. By the time that chorus is halfway through it will have you singing "when my phone rinnnngs" right along with them.
It's the kind of song which could have been released by Thin Lizzy at their prime if they used more gain.
"Getting Into Trouble w/ the Boss" is the kind of song I appreciate from White Reaper as it shows they're fully capable of stepping back on the gain and making a more melodic tune. I especially love where the vocal goes on this one when that chorus comes in and changes the vibe.
"Pink Slip" was the final single released ahead of the record.
It makes nice use of some reverb soaked delay to give vocalist Tony Esposito more presence on his disaffected delivery of the chorus lyric "hard to believe us when we grow up so slow".
The back half is full of more fun hooks, albeit not as deliberately single notable material.
The final song on the record is also the first one released as a single ahead of the record, "Pages".
Throwing us a curveball by opening with some lazy acoustic guitar strumming and vocals to make a nice contrast when the full band comes in behind it for the chorus, "Pages" is again another look that White Reaper's brand of modern meets classic rock comes in a variety of satisfying packages.
One thing's for sure, you'll very likely always be singing along.
White Reaper Asking For a Ride Review Score: 4/5
Coming in at 10 songs in just under 30 minutes, White Reaper's "Asking for a Ride" is a tight album from top to bottom. I could see myself skipping one or two tracks, but otherwise just letting this tight collection play out again and again.
It's certainly up there with their last record, 2019's "You Deserve Love", and track for track it may have surpassed it for me.
It's always a good listening experience when I find myself looking up the latest tour dates when I finish with the record, and I can tell this will be a fun one live.