Here's our indie rock playlist for October 2023, featuring the best in independent rock and punk music:
It's spooky season, so spin our indie rock playlist for October 2023 as you're trick or treating, conjuring spirits, etc.
Devastatingly Mediocre (Deanna Petcoff) – Another one of those great title=the best part of the song tracks. Great song structure as Deanna pulls back the energy and builds it up on that prechorus into the crescendoing chorus.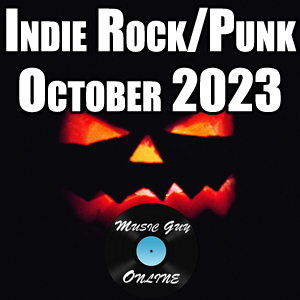 So Hot You're Hurting My Feelings (Squirrel Flower) – I love the timbre of the vocalist of Jetty Bones against the angsty midwest emo instrumental on "Innocent Party".
Medicine (Momma) – Excellent indie rock number from 2nd Grade on Velodrome as they channel that 90's power pop meets midwest vibes.
Munck (Carly Cosgrove) – Great vocals over what sounds like a jazzier track from The Band (love those tack piano and guitar solos).
American Teenager (Ethel Cain) – Cain's voice soar over an epic instrumental tapestry on her "American Teenager". Anyone else clock that "Don't Stop Believing" guitar nod?
Four to Six (Math the Band) – The chaotic pop rock, synth hook, and singalong chorus make this a raucous fun track from Math the Band.
Sensation (Animal Flag) – Just a good midtempo rocker from Animal Flag in their "Sensation".